"I believe inspiration comes from the soul." said a LinkedIn friend of mine, Steve Lowell. 
Steve asked a simple question and this brought up numerous thoughts about how, as a speaker and a person in general, I focus on making personal connections with my audience.

Its funny how some people who use to poo-poo anything spiritually inspiring, but who now only work from that space of inspiration and humility while removing ego.  Take Oprah's guest, Neurosurgeon Eben Alexander, (whom I hope to interview soon), who wrote a book called "Proof of Heaven". In it he describes his near death experiences and how, prior to this experience, he rejected his patients stories of near death and interaction with the divine.  These things would happen to them while he was operating on them or while they were in the hospital for treatment.
Today, however, Dr. Alexander chooses to work from inspiration because of his amazing journey with God.  It made his faith strong today.
Most people go through hell and back while connecting to the source of inspiration. I know this personally, so I share what's stirs my soul in order to stir my audiences hearts.  I dig deep, I engage with passion, I become vulnerable.  I touch their raw emotions at times and use imagery to drive my message home.  I love to stir people's hearts and get them to come from the inside out. I'm not alone in this desire.

Here are a few more examples (from biography on-line) of people who have done the same by their various achievements, attitude and values.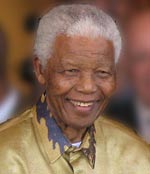 Nelson Mandela. Campaigned for justice and freedom in his South Africa. Spent 20 years in jail for his opposition to apartheid. After release he became first President of democratic South Africa and helped heal the wounds of apartheid by his magnanimous attitude to his former political enemies.

Mikhail Gorbachev. Had the courage, tenacity and strength of character to give up the absolute power of Soviet Communism. Moved the Soviet Union to democracy and respect for human rights. In doing so he enabled the Berlin Wall to come down and Eastern Europe gained freedom from Communist control.

Martin Luther King. Inspiring leader of the non-violent civil rights movement. Inspired millions of people black and white to aspire for a more equal and just society.

St Therese Lisieux – A Carmelite nun, who died aged 24, unknown to the world. Yet, after her death her simple writings had a profound effect becoming one of the best selling spiritual writings. Her approach was a simple approach of doing the smallest acts with love.
I belong to no religion, much to the dismay of those who love me and attend church. Its also to the dismay of numerous pastors who have pursued me over the years to work in their churches.  I've had many personal experiences with God since I was very young. I've taken a 2 year sabbatical to listen … only to listening God and not others; whether family, friends or pastors.  What I learned is that we cannot be inspired by staying in our heads.  Either our hearts become hardened by pain and suffering – or – we see those moments for what they are; seasons of growth, and a serious purging of ego, to continue our journey toward something greater. The later is what inspires others.
Audiences everywhere are hungry to find love, to find peace from an angry insecure world. Any time you can tap into the source of hope, in a non-judgmental way, no matter what topic you choose you'll have someone who wants to listen and follow you. Inspiration happens from a belief that anything is possible. Its rare to find people who live that out in today's world, but those people do exist.
I'd love to hear your thoughts about being inspired and where your inspiration comes from. 
Join me on the next episode of "The DOL View" livestream and become part of our VIP panel. http://www.DayofLove.org  and don't forget to share these pages if you find them of value.

Tailored to any audience, Kellie speaks on successful head and heart connections that develop sustainable relationships and businesses.